3
Soaps Spoiler
3448: Myra has a heart-to-heart with Carmel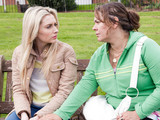 Aired Wednesday, Oct 10 2012 at 18:30 BST on Channel 4
Myra resolves to get the McQueens back together and tries to persuade Carmel to return home.
Meanwhile, a tense Darren and Nancy are anxious as the baby fights a serious infection.
Elsewhere, while Tony is away Rhys and Cindy decide to play, and almost get caught out when their dalliance is interrupted. Jacqui is left fuming when she realises Rhys has lied about being out with Darren.
Also today, Rob and Liam develop a rivalry when the new manager of Atwell's is revealed, while Esther is further divided from her friends as Ruby, Maddie and Sinead are accused of posting the videos.
Writer: Jonathan Larkin
Director: Lee Skelly
Get the Inside Soap magazine on your iPhone or iPad