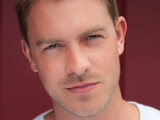 Darren and Nancy seem to be back on track when the family join together for the baby's christening, but Darren makes a shock announcement.
Meanwhile, Tony's suspicions are misplaced after a rather green Cindy makes her escape.
Elsewhere, Jacqui confronts Rhys about last night's antics - how will he get out of this one?
Also today, Esther is ostracised even further when she is blamed for breaking Jen's sculpture, while Ash decides to prove she can be a domestic goddess to impress Ally - but soon realises the role is not for her.
Writer: Jonathan Larkin
Director: Lee Skelly