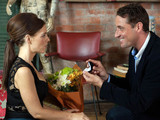 Rhys distances himself from Cindy when rumours become rife that she is pregnant.
Meanwhile, convinced that Cindy is expecting his baby, Tony proposes to his partner. However, when she realises why he's doing it, Cindy kicks Tony to the curb.
Meanwhile, after a barney with Ruby, Esther decides to skive college, but is mortified by Jack's punishment as he vows to walk her to and from college himself.
Writer: Niki Rooney
Director: Neil Wilkinson