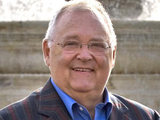 Neighbours
welcomes back a legend this week as viewers see
Ian Smith
reprise his role as fan favourite Harold Bishop following a three-year absence from Ramsay Street. Following Toadie's decision to contact his old friend for help amid his ongoing troubles with Sonya, Harold returns to Erinsborough in the hope that he can fix the situation. To hear all the details of Harold's comeback,
Digital Spy
recently caught up with Ian as he paid a visit to the UK.
Have you enjoyed your time in the UK?
"I have indeed! It's been pretty full-on and I'm sure I'll get on the plane home and ask, 'What was that all about?', but yes I have. You'll expect me to say this but I really do mean it - the reason I've enjoyed it is that the people I've met have just been superb. It's always wonderful meeting the British fans."
How did your return to Neighbours come about?
"I was approached by the CEO of Fremantle in Australia. They invited me to the 25th anniversary party and the CEO said to me, 'When are you coming back into the show?' I said, 'I'm not coming back on the show - I'm very happily retired, thank you very much!', but then he said we should have lunch. He convinced me to come back - and now I know why he's the CEO!"
When you left Neighbours in 2008, you seemed quite certain that you'd never return, so what changed?
"Yes, I was very definite about that at the time. But you see, the reason I left was that I was tired and I was worn out at the time. Once I'd left and I'd got all of my faculties back together again, I became re-energised."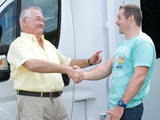 Once Harold returns, we'll see him trying to help Toadie quite a bit, won't we?
"Yes, that's exactly why Harold comes back. Toadie's having some awful trouble with Sonya and I guess he figures that Harold's a bit of a father figure for him, as well as being a man whose judgement he's trusted in the past. Harold has been called back by Toadie, and that makes him feel rather honoured, because he's got a very high regard for Toadie."
We know that Harold also has a new love interest named Carolyn. Given how popular his relationship with Madge was, what are your thoughts on this?
"Well, I'll be very interested to hear what people think about this, because it's a very dangerous line to take. A lot of people may not forgive him for starting a relationship with someone new, but I think it was handled well. I think the viewers will understand. Harold even goes to the cemetery to talk to Madge about it. After that conversation, if anyone accuses him of being unfaithful, I hope they can forgive him."
Out of all the new faces at Neighbours, was there anyone who you were particularly impressed by?
"Oh God, yes - Eve who plays Sonya, she just knocked me out. I remember that in the second scene I did with her, I turned to the director and joked, 'I don't want to work with her anymore - she's too good!' I had to work too hard to keep up with her! Also, Ashleigh who plays Kate and, of course, Morgan who plays young Callum. I know Morgan was there when I left, but this young man - what a brilliant actor he's going to be one day. Morgan is terribly old and wise beyond his years now, so that's going to be quite something to see and I look forward to seeing that happen."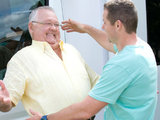 It must have also been nice to catch up with so many old faces!
"Yes, I always love working with Ryan, who plays Toadie. He's the most intuitive actor. He doesn't just do the same scene exactly the same way twice, and that's the way I work - I don't do it exactly the same twice either, because as actors we react off each other. And of course, it was lovely to do some more work with Tom, who plays Lou. Myself and Tom just enjoy working with each other and at the end of a scene, we're inclined to say, 'Thank you very much - I enjoyed that'. You don't often get two actors doing that."
People often forget that Harold was quite a narrow-minded character in the early days, don't they?
"Yes he was, wasn't he? And it was the youngsters who humanised him - especially Scott and Charlene. All of the kids, one at a time, made him realise what he'd been like all of his life. And then when David came back into the show, Harold saw what a silly old stuffy person his own son was - and he was like that simply because he was trying to be like his father. I think that's when the u-turn happened and Harold became an ordinary person. Well, a lot more ordinary than he was!"
You're back on screen for six or seven weeks, but is there a chance we could see you back again for another return stint?
"Oh, I've learned never to say never, but I think I am going to say that! But we just don't know what life's going to throw at us, do we? I mean, the heavy recession was one of the reasons that I went back because my retirement ended up not being as comfortable as it was planned to be. So that's one of the reasons that I went back, because I suffered like so many other people with pensions being diminished."
We've heard that you've done a lot of travelling since you retired. Which have been your favourite places to visit?
"Well, I'm a great lover of Australia, so myself and my wife just get lost in the bush and there's some wonderful sights every time we turn a corner in the road. It's just the most wonderful country - I would suggest to anyone that they should visit and just get lost in it. Don't make plans, just go there, get lost in it and have the best time in the world. Have a fishing rod in the back of your wagon as you can just walk up to any river and you can fish in it, you don't have to have any special permissions. Go on photographic walks, and expect to visit the beach and find that you're the only person there. It's fantastic."
Have you got any more trips planned soon?
"Yes - my wife and I have discovered cruising, and we've discovered that we like it, when I didn't think that we would! I thought that it was just a thing for a lot of silly old shufflers. Well, it was, but it turned out that I fitted in perfectly! (Laughs) So we'll be doing more of that. We're going down the Rhine next year. But we're also planning lots more travelling in Australia. We never make any exact plans for that, but that's just the way we like to do it."
Is it true that you've appeared in quite a few plays since you retired?
"Yes, I live in an area where there's all these lovely little theatres around. You see, that's all I want these days - I'm treating it more as a hobby than a job. Some of these little theatres send me a script, I have a look at it, and if I'm smiling half-way through the script and I find out it's only a 4-week season, I say that I'd love to be involved."
If this latest stint of Harold's did indeed turn out to be his last, how would you want him to be remembered?
"Just as a man that always tried to do the right thing and who never lied. A man who would always rather do someone a good turn than a bad turn, would always preach to youngsters, would always do an honest day's work for an honest day's pay, and that sort of thing. And lots of cuddles! Somebody who people could rely on if they ever had a problem."
Neighbours airs weekdays at 1.45pm and 5.30pm on Channel 5.> Read our Neighbours spoilers and news