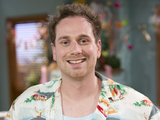 As most
Neighbours
fans will already know, Connor O'Neill returns to Ramsay Street in a few weeks' time as actor
Patrick Harvey
recently reprised the role after six years away.
Back for a four-week guest stint, Connor will be getting up to more mischief with former housemate Toadie Rebecchi (Ryan Moloney) - but his visit could also prove to be the push he needs to make some changes in his life.
Digital Spy
recently caught up with Patrick to hear all the gossip on his
Neighbours
comeback and his future plans.
When were you first approached over your return to Neighbours, and how did you feel about being asked back?
"This is actually funny because I was in the studio when my girlfriend had filmed an episode, and people then mentioned that I was coming back. Then other people associated with
Neighbours
also mentioned that I was making a return, however my agent hadn't been officially advised.
"Even Blair McDonough, who played Stuart Parker, asked me when I was going back. It was crazy for about a month of people saying this to me. Then finally it was confirmed, but I felt I had already accepted the role!"
How has the return stint compared to what you'd expected?
"I think it's met every kind of expectations I had, which was reverting back to the boys and the House of Trouser minus Stu Parker, and just having fun. The first day of rehearsals was really weird because I felt I had never left. It was very normal."
After a few years away, how easy was it to slip back into Connor's shoes?
"Again, it just felt like I have never left. After being here for four and a half years, I was able to work with the directors and ask if I could try this or maybe change that, and I found myself doing that straight away because I know the character so well.
"For me, Connor is the character you would like to be - the fun loud guy, the life of the party sort of thing. It can be exhausting at times because I'm actually pretty quiet, so when you have to play at such a high energy level it can wear you down, but I think you can tell I love it."
Has the show changed much in your absence, or does everything still feel quite familiar?
"It has been six years so there have been changes, but the feel and relaxed vibe of the studio hasn't changed. There are still some of the same crew like the ADs [assistant directors] who I have worked with, so that was nice. They watched me grow up from 17 to 22."
Can you give us any early hints on what brings Connor back to Ramsay Street? Is it a random visit, or has he been invited?
"Oh, he hasn't been invited, he just rocks up. He does come with a purpose to see Toadie, but there is also something else he is there to do and that comes to light about two weeks into his arrival. But up until that it's all about Toadie, reliving the old days and you know eating pizza, drinking beer and not wearing any trousers."
Has Connor changed much since the last time we saw him, or is he pretty much the same old guy?
"He has aged terribly! Initially it is the same wild Connor, however there is a little bit of growing up to be done - he realises that it's time to grow up. He sees Toadie moving on and sort of realises that things have to change."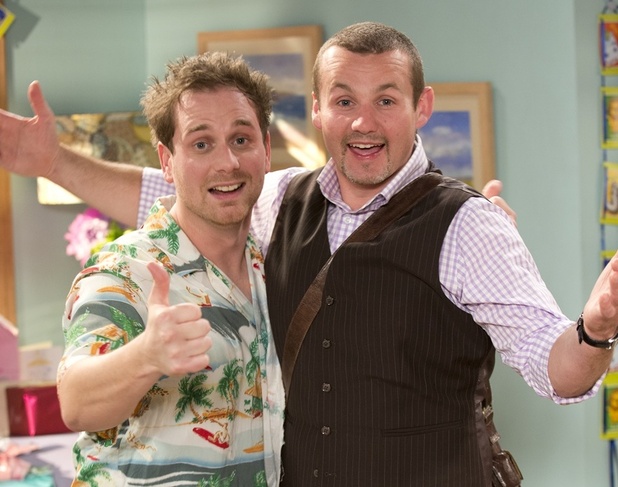 Pictured: Patrick Harvey with Ryan Moloney.
How did you find working with Ryan Moloney again?
"It's great, I love Ryan. I can't say it's working but we both seem to always be on the same page, so things come very naturally when we're doing a scene. It's just fun. When we were on the show together we did a lot of things outside the show and while we don't see each other as much, we're still in touch with each other."
How about working with Eve Morey (Sonya) and Morgan Baker (Callum), who you haven't crossed paths with on screen before?
"Morgan and I didn't really have a lot to do with each other, but Eve is just great, a breath of fresh air. She is really fantastic and fun, and she does her character so well. She and Ryan have a real chemistry. And it was great because you can see how the Toadie and Sonya relationship can be rattled a bit by the Toadie and Connor relationship."
Apart from Ryan, is there anyone in particular you were looking forward to catching up with on set?
"I thought I would have had a scene with the Kennedys because everyone has a scene with them, but it wasn't to be. To be honest, I was just looking forward to coming back and seeing everyone."
Since leaving Neighbours, you've had theatre roles and other screen parts. Which roles stand out as your favourites?
"I enjoy the whole process of auditioning and not knowing what is happening next, so I get excited about everything that comes my way. I do a lot of voice-over work with an Australian accent.
"I'm also really looking forward to an Australian feature film I start work on in October. It's a really gritty Aussie film which will be really interesting. And yes, I enjoy the theatre. I travelled around for six months doing
The Sum of Us
which was a great experience and I made some terrific friends."
After leaving Neighbours, did you watch the show much to keep track of things?
"Not religiously, but I do catch it from time to time."
A few people have said they wish you were back for longer than four weeks. Would you be interested in a more permanent return if you were asked?
"That's an interesting question. While I've really enjoyed this latest stint, I really enjoy the variety of different roles. But I'd never say no to coming back again in a guest role."
What's next for you?
"As well as the film I have coming up, there are a couple of things in the pipeline. I love the whole audition process, the anticipation of what's next."
> 'Neighbours': Patrick Harvey returns as Connor O'Neill> Read more 'Neighbours' spoilers and newsNeighbours airs weekdays at 1.45pm and 5.30pm on Channel 5 in the UK, and weekdays at 6.30pm on Eleven in Australia.