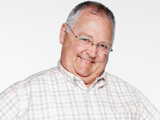 Ian Smith
has confirmed that Harold Bishop's return to
Neighbours
sees him trying to help an old friend.
Last month, it was
confirmed
that the actor had signed up for a new stint on the Ramsay Street show, nearly two years after what was thought to be his final appearance.
Speaking to
Holy Soap
about his alter ego's comeback storyline, Smith explained: "Harold is called back to Ramsay Street to help a friend, and of course you all think you know who that friend is, and you're all wrong.
"And of course there's human pathos, there's laughs - lots of laughs - [and] a little bit of romance, but I'm not saying who for, because I don't think she/he would like me to let it out. Look, there's a little bit of everything, but the thing is it's all a happy ending and it couldn't be better, and I loved it."
Meanwhile, asked how long Harold will be back in Erinsborough for, he replied: "Not sure about that, but I think a couple of months - maybe six weeks to a couple of months."
Harold's return scenes will air later this year.