Soaps News
'Neighbours' star unhappy with axings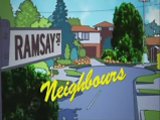 Warning:
This article contains spoilers that some readers may prefer to avoid. Please
click here
if you wish to continue.
Veteran
Neighbours
actor Ian Smith has claimed that soap chiefs made a "huge mistake" by axing the Timmins family.
Executives decided not to renew the contracts of Nell Feeney, who plays Janelle, and Sianoa Smit-McPhee, better known as Bree, following the departures of Ben Nicholas (Stingray) and Damien Bodie (Dylan).
The actresses leave screens in Australia next month, but Smith - who plays Harold Bishop - does not agree with the decision.
"I think it was a huge mistake to get rid of them - I was in love with every single one," Ian told
Inside Soap
.
"Fortunately, we're still left with Janae, played by Eliza Taylor-Cotter. If you want an actress who's going places, look to her. She's a natural-born comedienne and a lovely person, too. If I could have been guaranteed of having a child like her in real life, I might have considered it."
Get the Inside Soap magazine on your iPhone or iPad