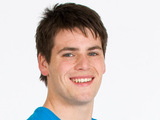 Neighbours
actor
James Mason
has emerged as one of the soap's rising stars in the past year, as recognised with
his recent Logie Award nomination for 'Most Popular New Male Talent'
.
Mason is in the running for the gong alongside
Home and Away
cast members Dan Ewing and Steve Peacocke,
Winners and Losers
actor Tom Wren and
My Sri Lanka
's Peter Kuruvita.
Digital Spy
recently caught up with James for a quick chat about his nomination and what's ahead for his character Chris Pappas.
Congratulations on your Logie Award nomination! How does it feel to be in the running?
"I'm still amazed that I'm among the nominees for the 'New Talent' category and I'm very grateful to those who voted for me. Viewers had the opportunity to vote for who they would like to be in the running, and that's how I ended up with the nomination. I'm just enjoying the moment."
What would it mean to you to win the award?
"Gee, I would be incredibly honoured. In Australia, the Logies are really our only viewer and industry voted awards, so I'm just chuffed to be considered. It's also my first Logies, so I can't wait."
How much support have you received from your fellow cast members over the nomination?
"A lot of flack, they are insanely jealous people! No, just kidding, everyone has been great about it, including all the crew."
What do you think of your competition in the category?
"They are all worthy contenders and I'm sure they feel the same way I do - that's it's great to receive this sort of acknowledgement for your work at the start of our careers."
What's coming up for Chris's relationship with Aidan in the coming weeks?
"The writers have been very conscious of treating Chris and Aidan like any other couple, so at the moment they are in the 'honeymoon' period of the relationship. However, a dark cloud is looming… That's all I can say for the moment!"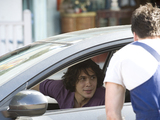 Will Chris find it difficult to be honest with his dad George when it comes to Aidan?
"George will surprise everyone in upcoming episodes…"
As Bob is a guest cast member, should fans expect the Chris and Aidan story to end in heartbreak?
"Never say never is all I can say at this moment!"
What else is coming up for Chris in the coming weeks?
"The Tash and Chris characters have been mates through all their highs and lows, so you'll find Chris by her side. Chris will also be interacting with some of the new characters - the writers are always looking for ways that all the characters can interact with each other, even only in a small way."
> Neighbours' Stefan Dennis "thrilled" for James Mason's Logie nod> Read more Neighbours spoilers and newsNeighbours airs weekdays at 1.45pm and 5.30pm on Channel 5 in the UK, and weekdays at 6.30pm on Eleven in Australia.