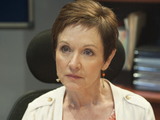 Surprised and disappointed to discover that her staff lack initiative, Susan empowers them to be more proactive, unaware that Paul has planted a mole in her team to keep watch for him.
Afraid that Susan will lose the advertisers he worked so hard to secure, Paul challenges his spy Fiona to gain access to Susan's email. Fiona uses Summer to do this, but when Paul later confronts Susan, she realises he knows too much and her suspicions lead her to a stunning conclusion.
Meanwhile, torn about whether to reveal Lou's deception, Kate makes it clear how deeply disappointed she is in him. She feels loyalty to Kyle but dreads the pain of telling him the truth - and watching guilt-ridden Lou trying to find a job to pay Kyle back is heart-wrenching too. In the end she must make a choice.
Elsewhere, Summer bumps into Andrew looking sharp and fears he's already started moving on. Feeling fragile, she throws herself into work as a distraction. Summer's especially buoyed when Susan gives her great responsibility - but a momentary distraction brings disaster.