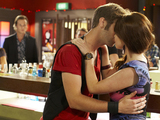 Feeling low, Summer reluctantly attends Andrew's Red Cotton gig and tries to push through the awkwardness of their new friendship. However, she is confronted when Griffin starts paying her attention.
Tash encourages Summer to enjoy some innocent flirting, and Summer eventually lets herself go by approaching Griffin. As they talk, she is finally able to offload some of her work stress and unexpectedly enjoys his company. Summer gives in to their chemistry and kisses Griffin, but when she sees that Andrew has witnessed it, she realises that she has made a mess of things.
Meanwhile, Susan grows increasingly concerned about a possible MS relapse. Wanting to keep Karl off her back, she hides this from him. However, when Susan starts struggling with daily domestic tasks, she realises that she needs to take action.
Deciding to seek help but still trying to avoid Karl, Susan is forced to see Rhys instead. Although she is initially reluctant about this, she eventually lets down her walls and allows Rhys to help her.