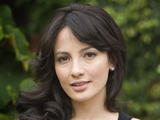 After a fantastic evening at the charity auction, Vanessa plays down the romance of the night to a concerned Lucas, but is clearly looking forward to spending more time with Rhys on their date. Scared she is setting herself up for hurt, Lucas attempts to warn Vanessa that Rhys can't be trusted, but she dismisses him.
At the same time, while getting a routine check-up, Susan is curious to see Elaine at the hospital and decides to stick around and introduce herself. The two women get along like a house on fire, bonding over their mutual frustration at having long-term illnesses. When Elaine reveals some of Rhys's struggles from the past, Susan's sympathy is piqued. However, when Rhys finds out, he is furious and fires up at unsuspecting Susan.
Vanessa is confronted to see Rhys blast Susan, deciding then and there to shut down the blossoming friendship - leaving Rhys rejected.
Meanwhile, excited about spending the day bonding with big sister Kate, Sophie is thrown to discover that Kate spent an exorbitant amount of money when she bid for a date with Kyle. Despite Kate's claim that it was all in the name of charity, Sophie senses that something more is up.