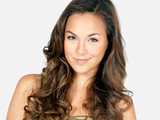 Sonya and Toadie rush to the hospital after her collapse. They learn all is well, but the nightmare of Troy's intervention order hangs over them. Jade realises that their only hope of stopping Troy lies in her hands. She finally tells Sonya her long-held secret - she and Troy were once together and he was the abusive boyfriend who caused her so much pain.
Jade then hands over the medical records that prove her story is true. Toadie is grateful, but Sonya is too stunned to offer Jade comfort. Has Jade lost her sister for good?
Meanwhile, Lou brushes up on how to be British in order to be Dawn's tour guide in the UK. Battling with his conscience, he soon confesses all, but it's no surprise to Dawn - she never bought the accent in the first place. Dawn says that Lou makes her laugh and that's all she wants. Lou can't believe it - honesty has actually paid off!
Elsewhere, Callum tries to push Rani away as he can't forgive the fact that her dad is representing Troy. Rani is not so easily shaken off, though, and finally a truce is made - for now.