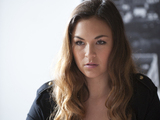 Toadie leads his family into a mediation session, hoping Jade's evidence about Troy's violent past will win their case. Courageous Jade manages to put aside her fears and present her evidence, but Ajay argues there is no solid evidence implicating Troy. Furthermore, they intend to raise Sonya's violent history - the time when she broke Jade's arm.
With their case in tatters, a frustrated Toadie insinuates that Sonya is to blame. Although he regrets it immediately, Sonya is hurt and Toadie breaks the terms of the intervention order during his mission to apologise. Will this rash action cause their case further harm?
Meanwhile, after learning from Susan that the Community Centre needs a fill-in cooking teacher, Vanessa is confronted when Rhys shows up to class. She realises it's a provocative play for her attention, but Vanessa is determined not to let Rhys get under her skin.
Later, when Tiffany - a fellow student - pays Rhys just a little too much attention and he uses it to his advantage, Vanessa can't fight an unexpected wave of jealousy. There's no hiding that she has feelings for him now.