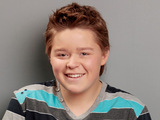 Callum starts to secretly visit Troy on the condition that Troy will drop the case to ease the stress on Sonya and Toadie. However, Rani starts to become suspicious over Callum's whereabouts. When Rani catches him coming out of Troy's house, Callum fears she'll blow his deal and urges her to stay quiet.
Later, when Callum learns that Troy has dropped the case but not his intervention order against Toadie, he can't help but confront him in public - only for Sonya to bust them together. Reminded of the stakes involved in keeping Troy onside, Callum lies and claims that he wants to spend time with him.
Meanwhile, needing to fix his PR blunder, Paul scrambles to apologise to Zoe, but she refuses to take his calls. While Paul gives up and starts looking into other options, Sophie remains determined to get them back together.
Deciding to take matters into her own hands, Sophie tricks them into a meeting. Upon arriving, Paul realises what Sophie has done, but plays along with it - hoping she'll get back on board to fix his mess. However, when he brings the subject up with her, he is thrown to learn that she's up for dating but not for working with him.