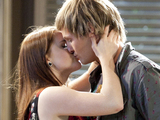 Thrilled to win an award for her efforts at the paper, Summer is convinced to host a celebratory dinner - but she fears it's too soon to invite Andrew. As Summer waits for Tash and Chris to arrive, Andrew surprisingly shows up to congratulate her. Seeing they're on the way to becoming friends again, Summer invites him in to celebrate with her, and once they get past the initial awkwardness, the warmth between them returns.
Later, Tash and Chris eventually arrive, and Andrew makes a touching personal toast to Summer - during which her feelings for him are rekindled. Showing Andrew out after dinner, Summer experiences a moment of frisson and kisses him. Summer struggles to fight the urge to question what they're doing, but ignoring reason for once, she follows her feelings and invites Andrew to stay the night.
Meanwhile, pushing through her pride, Tash joins in the LARP to get a chance to talk to Ed. Although she's confronted by the absurdity of the event, her competitive spirit eventually takes over and she manages to help Ed win the game for his team. However, as Tash finds herself warming to him, she fears the response of her friends when they find out that she's got a soft spot for a total nerd.
Elsewhere, deciding to steal Susan's thunder, Paul takes the credit for Summer's award. Susan tries to brush off his interference, but when she sees Paul winning over the public, she confronts him about trying to steal her job back - and he's forced to deny it.