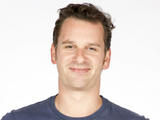 Lucas is under pressure to find a place to buy, or risk losing the chance to live with Vanessa. He sees an opportunity when he learns that the Williams house is going on the market. Unsure how Toadie and Sonya would feel about him buying Troy's property, Lucas is reassured by Karl to go for it - but is disappointed when his offer falls short.
Using his knowledge of the house's troubled history, Lucas successfully secures the house and surprises Vanessa with the news, assuming that she'll be thrilled. But Lucas is bewildered when she refuses to move in…
Meanwhile, relieved when things with Ed are seemingly getting back to normal, Tash is dismayed when he delights in publicly embarrassing her at uni. Assuming all he needed was a bit of revenge, Tash takes it on the chin before reaching out to her friend. However, when hurt Ed refuses to forgive her betrayal, Tash realises that she can't do any more to fix their friendship. Pushing her feelings for Ed aside, Tash resolves to move on - but can it be that easy?
Elsewhere, assuming that Rhys's recent success will go to his head, Karl is surprised when he shows some new-found humility. He soon realises that Vanessa is the reason for the change in Rhys, but unwittingly fuels her doubts about what her future holds when he finds out that she's going with Rhys to Japan.