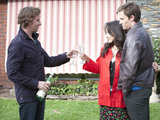 Lucas is shocked to learn that Vanessa won't move in with him because of what happened to Troy. Believing that it stems from superstition, he tries to assuage her worries but fails, not realising that she is covering her real concerns. Lucas is then driven to ask Rhys for help. Rhys offers little reassurance, but his own interest is piqued. He questions Vanessa about her stance and she admits that her reluctance to move into Number 32 stems from her uncertainty about the future.
Rhys reassures Vanessa that he doesn't mind who she lives with and reminds her to just take one day at a time. Just as an annoyed Lucas decides to give Vanessa a serve for throwing his gesture back in his face, Vanessa declares that she'll move in with him. Lucas is stoked, but he's still got a long way to go to win Vanessa's love.
Meanwhile, won over by Toadie's committed approach to birth coaching, Sonya goes along with his carefully planned pre-natal schedule, but soon becomes overwhelmed by his refusal to compromise. Sonya knows that his heart is in the right place and forces herself to appreciate his efforts. But when she learns that Toadie has booked her into a hospital for the birth and refuses to hear her concerns, Sonya puts her foot down. She'll have the baby her way - Toadie is fired!
Elsewhere, Priya and Rani lock horns when Priya discovers that Rani is not wearing her glasses. However, when she realises that it's because Rani is self-conscious wearing the glasses in front of her friends, Priya buys her a cooler pair. Later, she is frustrated when her kind gesture goes unnoticed and Ajay gets all the praise.