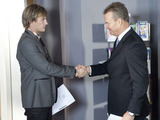 Despite Tash's rejection of the offer to buy their app, Andrew decides to proceed with the sale without her approval. When he learns that the deal won't go ahead unless he gets Tash's signature, Andrew tries to persuade her by revealing that they've been offered more money, but Tash won't be swayed.
Andrew is thwarted, but when he spies an opportunity to forge Tash's signature, he takes it - succeeding in selling their app out from under her.
Meanwhile, Jade is ecstatic to learn that her Singles' Boot Camp concept has been bought by interstate investors. Her instinct is to share her success with Kyle, but, unable to let go of her hurt, she decides not to.
Later, Jade is thrown when she comes home to a fitness-themed surprise party. While Rhys claims that he organised it, she sees the attention to detail and realises it was Kyle's doing. Jade shows signs of softening, but when Chris puts on the boot camp video - starring Kate - Jade is reminded of Kyle's betrayal. Jade is thrown a curveball when one of her clients asks her out, but ultimately turns him down with a text that confesses she still has feelings for Kyle... which she accidentally sends to Kyle himself!