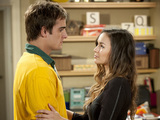 Kyle confronts Jade with her mis-sent text message, asking her to give their relationship another chance. Jade claims that her message was just an excuse to avoid a date, but Kyle knows Jade still loves him and urges her to try and move forward together.
While Kyle frets that he has pushed Jade too hard, Jade worries that she's still not ready to get past Kyle's betrayal - but may lose him forever if she doesn't act. Finally, she agrees to give their relationship one more go, thrilling Kyle. But Jade's doubts remain…
Meanwhile, Paul is determined to secure his place as editor of the newspaper before Susan returns. He and Zoe hatch a plan to get their advertisers to sign a contract supporting his role running the paper. However, when Summer thinks Paul is giving her the brush off and turns up at a meeting with the advertisers, Paul has to think fast to keep her off the scent.
Paul showcases Summer as an example of his vision as editor and thinks he's pulled the wool over her eyes. He doesn't realise that Summer is still suspicious, and when the advertisers insist on taking 24 hours to think about the deal, Paul's got more problems on his plate than he is aware of.
Also today, when Paul discovers that Sophie has failed another test at school, he handballs the discipline duties to Kate. Kate is reluctant to fall back into her mothering ways, and when Sophie reminds her of her vow to just be a sister, Kate tells Paul that if he wants to discipline Sophie from now on, he'll have to do it himself.