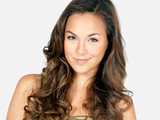 Jade tries to gloss over her argument with Kyle, but soon realises that he is serious about his ultimatum. Still not ready to move past his kiss with Kate, she gets advice from Toadie, who reminds her what forgiveness truly means - and that she doesn't have forever to make up her mind. When she is reminded of the things she loves most about Kyle, Jade must face her dilemma head on - can she really give up Kyle for good?
Later, upon discovering that Sheila is thinking about buying Lou's share of Dial-A-Kyle, Jade makes an effort to help her. But that effort takes an unexpected twist when it's revealed that it's not Sheila buying into the yard, but Jade herself. It's the gesture of commitment Kyle was looking for and the two are finally reunited.
Meanwhile, Rhys is concerned about breaking the news of his trip to Elaine. Vanessa helps him soften the blow by organising lots of support for his mum.
Elaine seems to take the news well, much to the happy couple's relief. However, Rhys is given extra food for thought when Elaine passes on an antique ring for Rhys to give Vanessa - when the time is right.