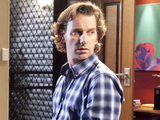 Faced with the prospect of Vanessa leaving tomorrow, Lucas is unable to hide his feelings any longer, and Lou quickly guesses that he's in love with her. Lou convinces him to tell Vanessa before she goes, and Lucas arranges a farewell dinner for just the two of them. However, his plans are thwarted when Vanessa invites Rhys to join them.
Forced to play third wheel, Lucas barely makes it through dinner, but when Rhys is called into the hospital, Lucas finally has his moment. Interrupted by a simple request, Lucas's declaration is abandoned when he inadvertently discovers a ring in Rhys's bag and realises that Rhys is going to propose to Vanessa.
Meanwhile, fearing his chances of a promotion are dashed, an embarrassed Toadie apologises to Charlotte, hoping that she'll still recommend him for the job. He's gutted when Charlotte insists it's no longer possible. Feeling responsible, Sonya appeals to Charlotte herself and is buoyed when Toadie reveals that he not only appreciated her going in to bat for him, but it was also successful. He has Charlotte's recommendation.
Elsewhere, deciding that he needs a hobby now that he's sold his share of Dial-A-Kyle, Lou takes up painting. Susan is then roped into sitting for a portrait in an effort to support him. The end results are hideous, but seeing how invested Lou is, Susan lies about how good the picture is and insists on taking it home. When Karl discovers the situation, he comes up with a plan to buy the portrait from Susan and hide it away so no-one will ever see it.