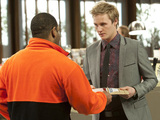 Despite his struggle to control his epilepsy without medication, Andrew remains determined to prove himself as a success in his father's eyes. As Andrew prepares to host their first gig at Charlie's, Aidan warns him to get treatment before it's too late. Andrew tries to avoid Aidan's advice, but when Paul asserts the importance of the gig, he's hit with the reality of how much he has to lose if he fails.
Desperate for medication, Andrew urges Aidan to take some from the hospital for him. When Aidan refuses, Andrew goes to desperate measures and illegally purchases them online. Fearing Andrew is putting himself in danger, Aidan reluctantly offers to monitor their effect. Relieved to have Aidan's guidance, Andrew launches straight back into work, confident he's got it under control. But does he really?
Meanwhile, assuming Ed will think she's lame for wanting to go to the uni ball, Tash keeps it from him that she's on the organising committee. However, when Ed busts her, Tash is surprised when Ed is actually keen to go. Together they struggle to sell tickets, and proving they're a great team, they put together a scheming plan to get his reluctant mates to attend.
Elsewhere, Susan is disappointed when her work commitments get in the way of her private life. However, when she reflects on why she wanted to be single in the first place, she decides she needs to have more fun and looks into hiring a deputy editor to take some of the load off.