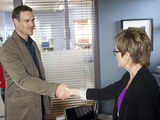 Susan is searching for a deputy editor, but when Summer comes across a particularly impressive CV, Susan dismisses it as being too good to be true. Summer suspects that Susan may be intimidated by Bradley's experience, but Susan denies this and agrees to interview him to prove her point.
Surprised when Bradley lives up to his CV, Susan offers him the job. But is this mysterious new editor all he professes to be?
Meanwhile, determined not to put lives in danger, Rhys manages to avoid assisting Jessica during a surgery, confident that with a bit more intensive, specialised therapy, he'll be ready the next time. However, when he keeps falling short, Rhys is shattered. Realising he's still got a long way to go and not wanting to raise any more suspicion, Rhys opts out of another surgery.
When Vanessa finds this out, she's bewildered - he was so confident he was ready. When Rhys assures her it was a case of last-minute nerves, she accepts his reasoning until she notices him hiding and protecting his injured hand. Vanessa realises Rhys is lying to her. But what is he hiding?
Elsewhere, when Jade learns of Sonya's latest plan to have a water birth, she is dubious over whether Toadie would agree to it. Jade's bemusement turns to shock when he doesn't argue, but when she catches him planning routes to the birthing suite, she realises Toadie is against it. He knew he was wasting his breath trying to convince Sonya, and instead decided to leave it to closer to the due date when he's sure she'll agree on the safety of a hospital birth.
Realising that these two are on dangerously different paths and that the source of the difference is the doula they hired, upfront Jade forces them together to talk until they find a compromise - no more doula. Sonya and Toadie are grateful for Jade's intervention, but are left wondering - how will they get by without her when she leaves for LA?