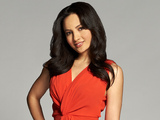 Suspicious about Rhys's recovery, Vanessa tests his injured hand and is dismayed when he fails. Rhys explains that the recovery is an ongoing process - no-one expects him to be up to full speed at this point. Vanessa is unsure whether to trust him, particularly after discovering how ruthless Rhys was when he originally chased a position on the surgery programme.
When Vanessa places her trust in Rhys, his guilt overwhelms him and he confesses to doctoring the results, but insists he believes he will fully recover - he just needs more time and would never put anyone's life in jeopardy. When Vanessa is reminded of his selfless actions in the past and his passion, she puts her faith in Rhys and agrees to keep his secret.
Meanwhile, buoyed when worldly Bradley lets her tag along on a story, Summer is thrown by his seemingly cavalier attitude. However, she soon discovers that his methods, despite not being by the book, may have some merit.
Elsewhere, with the time available to her, Susan is encouraged to try something new and signs up for a dance class. When she discovers it's pole-dancing, she initially baulks, but surprisingly finds it enjoyable. Revelling in her risqué new hobby, she decides to keep it to herself.