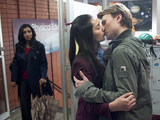 A guilt-ridden Priya dedicates her time to her husband, but when she is unable to forget the spark that bad boy Paul brings to her life, she puts herself back in his orbit. Faced with the reality of potentially engaging in an affair, Priya tries to backtrack. However, when Paul warns that it's inevitable something will happen between them, she is rattled.
Unsure of how to deal with her mess, Priya is hit with more concern when she catches Rani kissing Harley. Voicing her self-blame about her tryst with Paul, she hurts Rani's feelings by blasting her. Seeing the effect of Priya's words on their daughter, Ajay can't understand why she was so harsh. When Ajay confronts her, Priya realises that her anger is actually directed at herself - Paul has got under her skin.
Meanwhile, as Callum holds on to the hope of winning Rani, Harley seals the deal with her when they share their kiss. Knowing Callum won't be happy about it, Harley convinces Rani to keep it a secret. However, when Callum witnesses Priya blasting Raini for her new relationship, he realises what has happened and feels betrayed by his friends. Callum considers giving up the fight, but instead decides to imitate Harley's look and attitude and make it clear to Rani that he's a genuine option. Is Callum headed for trouble?
Elsewhere, stoked to have the hottest dress for the Uni Ball, Tash is thrown when well-meaning Ed reveals a colourful suit to match. Unable to compromise this much, Tash decides that she'll have to give him a makeover - but he can't know about it.