Soaps Interview
Mark Furze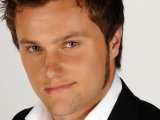 Digital Spy
caught up with
Home & Away actor
Mark Furze who plays Ric Dalby in the Aussie soap.
We spoke to him about his forthcoming storylines, his pranks on the Summer Bay set and what's in store for him and his character.
You're spending a few days in England, how are you finding it?
"Well, I was here in December and January and I'm never coming back in Winter! I can get used to the cold but the lack of day time, I just couldn't do it, I couldn't handle it. I feel like I'm a flower I need the sun or I'm going to die!
"I mean it's just so different, especially when back at home it was so hot and sunny all the time. I could easily spend six months over here in the middle of the year and then go back home for the warm bit, I mean I love it here it's great, the people are fantastic. It's just the lack of day time, it just got me really depressed."
How is it on Home & Away now, is it one big happy family?
"It's at the point now where we're only just getting a couple of new people. There's a stage where everyone's been there for a while so we all know each other really well and we're all mates."
Are you similar to Ric's character in any way?
"I've been told we look pretty similar, but I have longer hair than Ric does... Yeah, you can't really do a show for three years and be a person that's so different to yourself. If it's a film you can focus on little details and just make sure you're doing that person. But you can't do it, you don't have enough time. There's a lot of Ric in me, but I'm not as aggressive as him!"
Is it nice to have an aggressive character so you can let loose?
"It's awesome, I think I've got one of the best characters. I'm always getting in fights and it's great when he snaps at everyone."
What can we expect to see happening with Ric in the near future?
"Ric was in prison so that was a pretty big storyline. For a while I'm kind of playing the mediator for Matilda [Indiana Evans]. She goes off the rails a bit and Ric has to look after her, and Lucas [Rhys Wakefield] meets the teacher and you know he goes a bit mad and he's trying to help him and Tony [John Sivewright] out. So as far as storylines go there's not a whole lot happening, there's stuff we haven't shot yet that's going to be quite big so I should probably keep that to myself for the moment."
Are you looking forward to getting more challenging storylines after a quiet period?
"Yeah, I've got a story line coming up where I've got to be with a few of the cast members that I wouldn't normally work with so that will be nice. It kind of goes in waves, every three months or so each character gets there own plot depending on what kind of character you are. So yes it's about time I had another story line, it will be good."
With this Lucas dilemma, you have to keep a secret from him. Do you think it's a big test on their relationship?
"Yes definitely. It's a tough situation because I tried to think how to do it from Lucas's perspective. But then he's not doing it to go and hurt the guy, it's a horrible situation to be under. Sure, when Lucas slept with her (Naomi) you go 'cool you slept with the teacher' but then your dad did as well, that's a really icky situation. It's a very testing story for the boys."
Do you think Ric handled it okay or he could have handled it better?
"You can always try and analyse a situation, but I think he did it pretty well considering he didn't really know what to do and his heart was always in the right place. Luke's going to have to be p*ssed off that he didn't tell him, I think he just thought 'I don't want to be involved' and just try to do everything the right way and avoid people being hurt as much as he could. It was always going to turn out bad regardless!"
Are we starting to see the good sides to his character coming out more?
"Yes, he's still got that crazy temper where he'll snap. But he is a nice guy and he's quite reformed from when he first started. He's been a bit soft recently, which is cool as well."
Click 'next' for more!
Over the last three years, have you got any particular favourite on-screen moments?
"Not specifically, kind of the extreme things. I like the really light stuff, just funny stuff where - there's a storyline where we sank a boat and it was just really light and silly and we made up a few lines and made some jokes and just had a good laugh with it. So that's always a lot of fun, working with Rhys (Lucas) it was just the two of us and we bounce off each other really well.

"And I also like the extremes, the really big stunts and the more emotional scenes. The stunts you've got to really be on your toes, there's a lot to think about. Even though we don't do anything too huge, but to make a fight scene look half way realistic you've got to really think about what you're doing."

Have you ever accidentally hurt each other?
"You always end up with a lot of scratches when you have to grab each other, but no I've been alright. But there were a couple of guys a few years back who were actually hit, he actually hit him in the face. I don't know who it was but someone got punched, so maybe I'll punch someone one day!"

Any memorable off-screen moments?
"Yeah, because I've been there for a while I know how far I can push things, so I always try to put people off which is to most of the crew's frustration. But we actually have a thing in the green room where people bring in shirts, books, surf boards and all stuff for us to sign. Jodi (Martha) once, she had to wear a flesh coloured bra for one scene and she left it on the desk. As a joke I signed it and so did like seven other members of the cast, so Jodi's obviously got a signed Home & Away bra which I think is probably the only one."

Has she put it in a frame on her wall?
"She should have! She should sell it on eBay or something. Or maybe she still wears it, I don't know."

Do you get any input on the storylines - is there anything you'd like to see Ric do?
"If we have ideas then we can go to the writers and say 'I've got this idea' and they can take it on board and work with it, they're more than happy to hear ideas. I'd just like to see some blokey stuff, they always end up looking like a bit of a handbag, they're always soft and they always end up a bit woosy. So anything more blokey, I want to do a motorbike chase or something, that would be cool. Or a really long fight scene, I mean I like action films so I'm just going to want all blokey stuff."

What's it like working alongside the old cast members, like when Donald Fisher (Norman Coburn) re-appears?
"I didn't watch it religiously when I was growing up but of course I knew who he was and I'd seen him before. The guy doesn't age! He looks exactly the same as he did when he first started, he's incredible. Norman's a lovely guy, he's great he did it ages and ages ago so it is strange having him come back. It's weird that he's such a well known face and now this is my job, it's really weird."

Is it something you see yourself doing for a while or do you want to go and do other stuff beyond the show?
"I could easily stay there and continue to do it for a very long time. I don't know what the future will hold, I mean I definitely want to do other things. I want to do some music stuff and I'd love to get into films but I really enjoy my job so it's a funny situation. I don't want to stay around forever, I want to get on and do new things. I didn't become an actor to do the same role my whole life, I want to do as many different characters as I can... We'll see what happens."

How have you dealt with the fame thing, do you get recognised a lot?
"It's funny, it's not like I do movies or anything. A lot of people know who you are and that you're on Home & Away but I still do everything that I would normally do. I wouldn't really say that I was a celebrity, I'd just say people know who I am. It's kind of weird to have people you've never met and they come up and have a chat, it's very odd. I don't think you can ever really get used to it, sure some people it goes to their head."

Especially coming all the way over here, is it stranger when you're in England and people recognise you?
"People over here are very different, I find less people recognise me, but when they do they get really excited. It's fantastic that I'm on the other side of the world, yet people still like what I do, it's really weird."

Thanks for chatting with us, Mark!

Home & Away airs at 12pm and 6pm on Channel Five, with catch up episodes at 5:30pm on Five Life.
Home & Away the Early Years transmits Monday to Fridays at 10am also on Five Life. Get the Inside Soap magazine on your iPhone or iPad