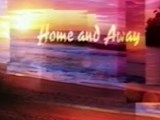 Home and Away
's leading producer
Cameron Welsh
has revealed that romance storylines will be one main focus on the soap this year.
In an interview with
TV Week
, Welsh promised that fans would notice a change from the darker plots which have dominated Summer Bay in recent months.
He explained: "There is unquestionably a shift in tone for 2010. The storylines are, on the whole, lighter and will be more character-driven. And, yes, there will be a focus on relationships, among other themes."
Discussing some of the stories which are coming up, Welsh continued: "Gina and John will continue to grow closer, causing more angst for Xavier, but it won't be smooth sailing for them when a new character arrives.
"Tony and Rachel continue to find their way forward as a working family, juggling their jobs and raising baby Harry. Aden and Nicole have an interesting journey, a couple who may just be perfect for each other - in another time."
The show's long-standing actor Ray Meagher (Alf Stewart) recently
promised
a new "family" image for 2010, arguing that there had been "too many guns and balaclavas and bank robberies and that sort of thing".