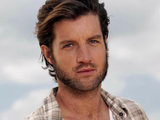 Axle Whitehead
has revealed that he suffered from depression when he was a teenager.
The 30-year-old Australian singer and actor, who is best known for playing Liam Murphy in
Home and Away
, said that he became a "zombie" after being put on medication to control Attention Deficit Disorder.
Whitehead told the
Herald Sun
: "There was just one level all the time. I'd be quiet in class, I'd focus, but, then, after a year, I did start getting really bad depression.
"I remember my brother saying, 'Bugger this, I don't care how disruptive you are in class, just stop taking the things.' I stopped and a couple of weeks later I got suspended."
Whitehead also revealed that he would love to settle down and have children despite the difficulties of parenting nowadays, saying: "Once I find the right woman, I'd love to."
He also said that he believes he has grown up now, adding: "I'm 30 now and I think you start to focus less on critics and more on becoming a happier, more grounded person."
Whitehead was
believed to be dating
Home and Away
co-star and on-screen lover Lisa Gormley late last year, but she later
said that she was single
.
> Read our interview with Axle Whitehead