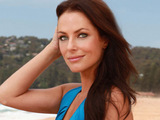 Home and Away
actress
Esther Anderson
has revealed that she is "lucky" to be slim.
The 32-year-old Australian actress, who plays Charlie Buckton in the soap, said that she can pretty much eat whatever she likes but still tries to be "kind" to her body.
Anderson told
New Idea
magazine: "I'm pretty kind to [my body] and I feel I'm pretty balanced. I definitely feel better eating healthy. McDonald's is my weakness! I have it once a week. I order a large Filet-O-Fish meal, six nuggets and a caramel sundae every time.
"My exercise routine is pretty moderate and I don't like the gym. As far as cardio, I don't have to slim down so just walking around is enough. I feel lucky in that way. I think a lot of people might see me eating junk and think I can eat whatever I want because I'm petite, but I do have to balance it out. I use a yoga mat at home for toning and strengthening exercises."
Anderson admitted that she has "become more accepting" of her body as she has got older but added that she would "like a bit more booty". She also revealed that she like to show off body parts that make her "feel womanly", such as her legs.
The actress also advised women to "start looking after yourself when you're young", to "be healthy and balanced" and not to "deprive yourself" of treats because doing so only makes people crave them more.
In October last year, Anderson admitted that she
lost too much weight
while taking part in
Dancing with the Stars
, adding: "It's history now, and I feel really good and womanly again."
> 'Home and Away': First look at 2012
> 'Home and Away' star Esther Anderson quits show?