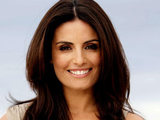 Home and Away
's
Ada Nicodemou
has divulged that her character Leah tries online dating.
Nicodemou teased to
TV Week
that the date, encouraged by Roo (Georgie Parker), is "really embarrassing" after she gets drunk in Angelo's.
"She goes out on a date, and - of course - she's at Angelo's - and she starts drinking because she's so bored," she explained.
"Her date has his own issues, and before she knows it, she's drunk - it happens sometimes when you're a bit emotional and you haven't eaten properly.
"It's quite an embarrassing storyline - the whole episode is really embarrassing and you feel for Leah. It's quite funny, as Leah is such a good person who very rarely lets her hair down and is not usually out of control like this."
Recalling how the situation arises, the actress added: "It's not like Leah really wants it to happen either, because Charlie (Esther Anderson) was her best friend, so she doesn't want to be feeling like this. Brax isn't interested. so everything about this is wrong.
"Roo knows about Leah's feelings towards Brax and encourages her to try online dating. It's all just a bit of fun."
In recent weeks, Leah has
begun to fall for Brax
, whose lover Charlie recently
lost her life in tragic circumstances
.