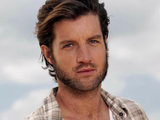 Home and Away
star
Axle Whitehead
has revealed that his character Liam Murphy may soon start a new romance.
Whitehead revealed that he lends a hand to a struggling Hayley (Alyssa McClelland) while he continues to
get over the break-up of his marriage
to Bianca (Lisa Gormley).
Hayley turns up at Liam's door asking for a money hand-out, and as a former drug addict himself, he decides to help her.
"Liam can see what is going on and is trying to be the good guy," Whitehead told
TV Week
.
"Music and drugs are his background and he can see someone very different to Bianca and that's what attracts him to Hayley. He can see a problem and he wants to help."
Liam allows her to stay overnight in order to let the drugs get out of her system, and stays up all night with her, leading to a possible start of something romantic between the pair.
He added: "They're both going through a rocky patch and are saying to each other, 'We'll be mates and you can help me', and that lines gets crossed."
Lisa Gormley recently spoke to
Digital Spy
about her upcoming storylines
, including her break-up with Whitehead's Murphy.