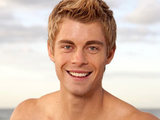 After turning down the money from the River Boys, Romeo attempts to fix the Blaxland himself. When Romeo gets caught in the middle of a River Boy scuffle, he neglects his surf lifesaving duty which leads to a near drowning. John has no other choice but to give Romeo the sack.
Later, Romeo's luck has well and truly run out when the Blaxland has an engine malfunction in the middle of his client trip. Indi and Roo both try to offer Romeo some support but in Romeo's desperation to turn his life around, he agrees to take the River Boys out on their charter…
Meanwhile, Casey skips school to go surfing with the River Boys, much to Ruby's protest. After Casey receives a black eye in the River Boy scuffle, Ruby gives him a serve about always trying to prove he is one of them.
Elsewhere, Morag reveals to Roo that the reason this client charter was so important is because the clients came with a potential business offer for Morag. Is she thinking of leaving Summer Bay for good?