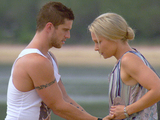 Unable to reconcile their tempestuous relationship with Heath, Bianca and Liam attempt to steal away from Summer Bay to start a new life. Leah and Irene share their concerns that leaving the Bay won't fix anything, but neither Liam nor Bianca can see any other way.
When Heath learns that Bianca intends to leave the Bay, he tries to talk her out of it. The baby then kicks for the first time and Bianca and Heath share a moment, which is caught by Liam. Furious, he storms off with Bianca in tow. When she asks him if he's happy about the baby and he can't respond, their future together is once again in question.
Meanwhile, Lottie and Dex seem to hit it off instantly, which makes April question the nature of their relationship. When April accidentally overhears that Bianca intends to leave Summer Bay without telling her, she becomes upset - and Dex runs to her rescue.
However, when it seems to Dex that April is only interested in him when she feels threatened by another girl, he is furious and storms off.