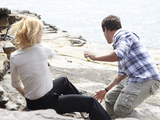 Brax makes Hayley come clean about why she set him up. She explains that she took the side of Jake Pirovic because of her drug problem. Brax still holds her responsible for Charlie's death but when it turns physical, he eventually lets her go.
Meanwhile, Liam tries to get Heath to back off when it comes to the paternity test, but has no luck. Afterwards, Liam and Bianca have a rapprochement and promise they won't let Heath come between them. At the same time, April gets through to Heath - explaining the invasiveness of the DNA test.
Elsewhere, with Roo's help, Leah tries to dispel the awkwardness with Brax. The pair decide to put everything behind them and be friends.
Also today, Casey can't concentrate after Henri's disappearance and makes plans to visit her. When he learns that Brax was the one who convinced her to leave town, he loses it.