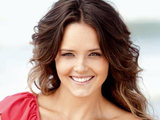 Logan comes back to Summer Bay to surprise Indi, but soon realises that their long distance relationship isn't working. Instead, he asks Indi to move to Hong Kong with him. Indi goes to Romeo for advice, but Logan sees this and realises she is still in love with her estranged husband.
In the meantime, Ruby is pushing forward with her plans for the Surf Shop. When Ruby suggests that she and Romeo should open a shared account, he becomes worried that she'll find out about the money he has lent to Indi. Soon afterwards, it all comes out when Logan - having just broken up with Indi - talks to Romeo about bailing Indi out with the money and is overheard by Ruby.
Meanwhile, everything seems to be going well with Liam and Hayley - she's clean and he's pleased that he could help. Leah is still concerned that Liam is rushing into a relationship, so Liam decides to get away with Hayley for a while. Just when everything seems perfect, Hayley tries to hide a call from Heath, making Liam question whether she is still lurking in dangerous waters.
Elsewhere, after Gina has found Jett's mother dead, she learns that he has known for three days - realising that is why he hasn't been going home. Concerned about his future, she convinces Marilyn to go to the police and ask to drop the charges. Jett is released, but is sent away to live with a foster family.