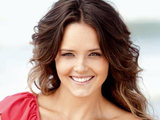 Romeo confronts Ruby about her manipulation and they fight. Leah advises Ruby that it's not up to her to tell Romeo that he can't see his wife. Romeo admits to feeling confused and a softened Ruby tells him to take his time.
At the same time, Indi is desperate to repay Romeo fast and surveys her options. Marilyn suggests modelling could be her answer. Indi meets a modelling agent and she seems impressed, but it comes unstuck due to Indi's restrictions and inability to pay for a portfolio.
Later, Indi comes to apologise to Romeo and breaks down in his arms about her current problems - which Ruby sees, setting her off. Following Alf's advice to be honest with how he feels, Romeo asks for her to come and sort it out. It looks like Romeo's trying to break up with her when Ruby drops a bombshell - she's pregnant.
Meanwhile, Dex and April tell Heath that talking to Bianca may help in her recovery. As he gives it a try, Bianca becomes conscious. April is overjoyed to have her sister back, but it's soon clear something could be wrong with her. Their fears seem to be confirmed when Bianca doesn't want to see her baby.