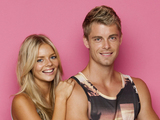 When Dex reveals to Romeo that Indi knows about the pregnancy, he rushes over to apologise. Clocking that she learnt the news because she was going to declare her love for him, he tries to get it out of her, but instead she kicks him out and asks him to let her move on with her life.
In the meantime, Ruby is concerned that the pregnancy is tearing her and Romeo apart. When Romeo tries to end their relationship, she struggles and begs him to stay.
Meanwhile, Dex lends Indi money in order to organise a photoshoot for her modelling portfolio. However, when the sleazy photographer suggests that Indi needs to take her clothes off, she shuts it down, losing Dex's money. Dex isn't too concerned, as his troubles with April are still plaguing him. He tracks her down to confess his undying love for her, and finally they are able to be together in every way.
Elsewhere, it's the day of Jett's mother's funeral, and Gina is concerned about this young troubled boy. When she sees that VJ has a bloody lip and learns that Jett is acting out, she confronts him, but he retaliates and accidentally pushes Gina over. John sees this, and scared about what has just happened, Jett runs away.