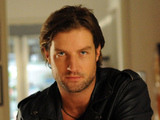 After his drug binge, Liam wakes up with a cut on his head. When Leah notes that he's bleeding, she rushes him to hospital where they learn that Liam had a cocaine-induced seizure. Realising that his life has taken a bad turn since hooking up with Hayley, Liam has to make the decision on whether or not he should stay with her.
In the meantime, Liam runs into Bianca at the hospital, who is still suffering from post-natal psychosis. She tells Liam that she's still in love with him and that she needs him to help her - believing her baby was murdered and that there is a cover-up. Liam struggles with the pressure, realising there isn't much he can do for her in his current state of mind.
Meanwhile, the appeal is under way, as the Braxton brothers argue about what will happen if their father is released. Brax is convinced that only bad news can come if Danny is freed, but Heath and Casey are committed to giving their old man a second chance.
Hayley - struggling with the pressure and her cocaine comedown - suggests the case is strong, but not a definite. She sends the boys home to wait for the ruling, but the stress becomes too much for Brax and he shuts down Angelo's - just as he gets a special visitor.