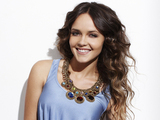 The police are searching for Ruby, aware that she tampered with Indi's car and therefore caused Dex's accident. Summer Bay is shocked by the news. When Dex's loved ones find Ruby at his bedside, she tries to beg for forgiveness, but no-one will have it. Ruby realises that she needs to do the right thing and turn herself in, but she needs to do one last thing first.
Soon afterwards, Ruby shows up at Brax's. When Brax tries to convince her to run, Ruby refuses, explaining that she's not there for his help, but instead to tell him that he needs to let the anger of Charlie's death go - it's the only way to move forward. With those wise words, Ruby says her final goodbye to Summer Bay and goes to turn herself in. Realising that Ruby is right, Brax visits Charlie's grave to get some closure.
Meanwhile, after some medical complications, April struggles to find answers about whether or not Dex will make it. She looks to Sid, who is himself struggling with the fact that he can do nothing for his injured son. When Irene suggests that April should give up their new rental, April refuses and shuts everyone out.
Elsewhere, Roo and Harvey return from the city to the bad news of Dex's accident. When Roo learns of Ruby's involvement, she is even more disappointed, feeling responsible that she wasn't there for Ruby in her time of need. Harvey realises that all of this bad news is not good for Roo, so he decides to propose to her again - this time with a ring.
Also today, Jett's paternity test results are nearing, and Gina and John are finding it hard to get him to open up about how he feels. They assure him that they will support him no matter what the results say. When they receive confirmation that Richard Bozic is Jett's father, they realise that their future together as a family is jeopardy.
Finally, when Natalie reveals to Brax that Casey has been staying with Danny and not his mother, Brax becomes concerned with what Casey is getting himself into.