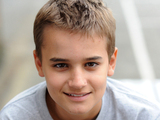 In light of Jett changing his mind about leaving, Gina suggests that maybe they can work out a compromise. However, Richard is angry to hear the change of plans and puts his foot down, threatening to get the police involved if he has to.
Later, the confrontation threatens to explode in front of the police, and Jett decides to submit to Richard to avoid more trouble.
Meanwhile, Indi and Liam consider breaking the news about their relationship before Romeo finds out the wrong way. Liam reveals the truth to Romeo, who confronts Indi about it - clearly hurting. He moves out of Leah's house, saying his friendship with Liam is over.
Elsewhere, Roo has a go at Tim for stealing her ideas and gets him to let her join the project - much to the chagrin of Harvey. He warns Tim to back off, but it's clear he doesn't intend to.