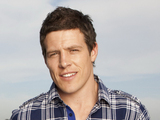 Brax implores Natalie to try harder in getting Casey to talk before he throws his life away. When Marilyn comes knocking about the funeral, Brax is still shirty, but Natalie points out this may be a way to get to Casey. She then tries to convince Casey to attend.
Later, Casey turns up and Brax seizes the opportunity to make his brother see that Danny was setting him up - and finally gets him to fight his charges.
Meanwhile, Heath is reluctant to go to Danny's funeral, but Bianca stays by his side with Rocco too. Afterwards, Bianca expresses her pride in how Heath handled himself and it seems the couple are in a great place.
Elsewhere, Sasha is shocked at her father's outburst, but Sid maintains that everyone needed a dose of medical reality. April returns to Irene's in tears, her spirit dampened. Sid admits to Irene that he's feeling helpless, and she suggests they all need to look after each other. Sid and April later have a tentative rapprochement, realising they're both scared. Later, Dex finally wakes up, but April is taken aback at his hostile mood.