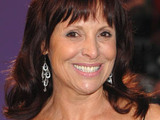 Doctors
star
Diane Keen
has revealed that she is eager to have more scenes which explore the family life of her character Julia Parsons.
The actress, who is the longest-serving cast member on the BBC daytime soap, explained that she would like Julia to have new storylines with son Patrick and granddaughter Chloe in the months ahead.
Fans of the programme were recently given a fresh glimpse of Julia's life outside of The Mill as part of her Lyme disease storyline, which aired on screen late last year.
Speaking to
Digital Spy
, Keen commented: "With the Lyme disease storyline, we saw her granddaughter and her son - I'd like to see her get closer to her son Patrick.
"And I'd like to see more of her with her little granddaughter, which we are doing more of. Their last encounter was horrific because Julia left her at the zoo because she was ill, but it would be nice to see more of that part of her life."
She added: "All we ever really see of Julia is that she goes to PCT meetings, or she's filing, or she's telling off someone, or sticking her nose into somebody else's business! She sorts out people's lives really well, but there's got to be more to Julia's life than that, I think."
Doctors
today celebrates its 2,000th episode with an hour-long special which sees a deadly virus unleashed at The Mill. The instalment airs at 1.45pm on BBC One.
> Click here to read our interview with Diane Keen
> Click here to read more from Diane Keen in Soap Scoop