Soaps Spoiler
'Teenage Kicks'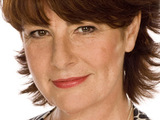 Aired Friday, Feb 18 2011 at 13:45 GMT on BBC One
Mrs Tembe rubs Karen up the wrong way when Angie calls The Mill. Karen has been avoiding her calls and Mrs Tembe answers and tells Angie that Karen doesn't want to speak to her! Much to Karen's dismay, Angie arrives at The Mill to take her to lunch so there is no chance of escaping her.
Over lunch, Angie suggests that Karen goes on a date with Kevin Latham, an old friend. Not giving up, Angie calls Kevin, and Karen reluctantly gives in. She tells Immie that she is going out with Angie, and at the Brassiere, Karen and Kevin agree to forget their troubles and have fun. But when Angie calls Karen at home and Imogen answers, the cat is let out of the bag!
Meanwhile, Karen and Rob's split is clearly having an effect on Jack and Imogen and the two begin to argue. Jack confides in Lucy about his parents and they escape to a hotel together. As Jack sleeps, Lucy gathers her things and leaves the hotel room, and as she does she slips her wedding ring on. After finding out about Karen's date, Imogen goes to a friend's, leaving Karen to return to an empty house.
Elsewhere, Jimmi goes to visit Cherry and hears some news about her condition.
Get the Inside Soap magazine on your iPhone or iPad