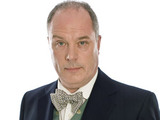 Heston, Daniel and Zara prepare for the practice manager interviews, but thoughts of the upcoming re-accreditation are rife. They need a strong candidate to steer them through this, but are doubtful about the calibre of the candidates - including Mrs Tembe. Zara thinks she has a quick fix and tries to call Julia, but to her dismay learns that she's off on a cruise with Martin.
Later, as the interviews get going, the three partners are dismayed with the candidates and Mrs Tembe does herself no favours either. They agree to interview a last minute candidate and are blown away by Howard Bellamy, former captain in the Aston Regiment, who knocks them sideways with his knowledge and expertise. After asking for an exceptionally high salary, he leaves. However, the threesome are in reluctant agreement - if they want to weather this storm, they need him…
Meanwhile, it's Jack's big exam day and Karen is horrified when he reveals that he's put all his eggs in one basket and only revised one topic. However, the gamble seems to have paid off when Jack is delighted with his question and gets to work. Yet as time ticks by, a number of interruptions arise - preventing the students from working. Finally the exam is rearranged, leaving all Jack's hard work undone.
Elsewhere, Jimmi tries to help a young girl who puts her life in danger when she becomes embroiled with a local dealer.