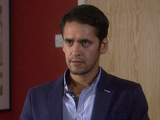 Daniel leaves flowers on a gravestone, and Kevin thanks him as he couldn't bring himself to do it. Kevin confesses to Daniel that he thinks everyone will hate him because he survived and Freya didn't. Despite his colleagues thinking it's too early, Kevin insists on coming back to work and everyone does their best to make him feel welcome.
Back in the saddle, Kevin meets positive young chronic fatigue syndrome sufferer Grace Randall and her worried mother Carrie. Kevin reassures Carrie that Grace should just carry on with her exercise programme and that her positivity is astounding. However, later Carrie calls Kevin out because Grace has collapsed with exhaustion.
Kevin is once again struck by jovial Grace's positivity. He asks how she does it and wonders whether she should always be so strong. Soon afterwards, Kevin leaves feeling despondent and later tells Daniel and Jimmi that he thinks he is a coward - if life is that unfair, he wants no part of it.
Meanwhile, when Howard helps an injured, young soldier make the transition to civvy street, will it open up old wounds of his own?