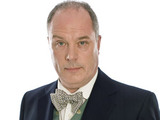 Heston is nervous about the restorative justice session today with Curtis. Elaine warns him not to expect too much. At the prison, Curtis enters and surprises Heston by making a heartfelt apology upfront. Curtis makes a few jokes about the situation and gives a brief sob story about his life, causing Heston to further impress on him how the crime affected him.
Heston goes on and on about his belongings which were damaged and stolen, but eventually Curtis snaps that he's heard enough about the "poor little rich man" - he only apologised as he thought he might get time taken off his sentence. Heston is stunned as the mediator Audrey calls the session to a close.
Meanwhile, Jack has a so-called 'easy' job today - he just has to wait at someone's house for a delivery and earn a ton of cash. However, Jack can't resist snooping around the huge house and generally wreaks havoc.
Elsewhere, when the mother of a dead criminal involves Karen in a séance, her scepticism may be a matter of life and death.