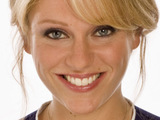 Note the change in TX time
Cherry throws away her contraceptive pill as she convinces herself to try for a baby with Jimmi. When Mandy hears her talking to Heston about baby names, she questions whether it's a good idea after what happened with Daniel. However, Cherry ignores Mandy's queries and calls Jimmi to discuss the baby names she has come up with.
When Jimmi starts trying to tell Cherry to cut down on caffeine, she feels smothered. Later, as she gets home to find that Jimmi has bought her a teddy bear rattle, it's too much to bear and she takes today's pill…
Meanwhile, Jas is getting on well with colleague Grace, who gives her some tips on how to be a better waitress. However, when Kevin and Howard turn up to get lunch, she has to pretend she doesn't know either of them. She ends up crouching under the counter to hide, out of fear that one of them will reveal her true occupation. Grace teases Jas that she must be involved in some kind of love triangle, but when Grace starts to have an allergic reaction, Jas is forced to reveal her medical training and save her.
Elsewhere, Karen and Imogen find themselves embroiled in an unusual dispute between a mum and her son.