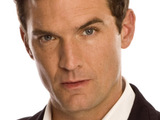 Howard reminds a distinctly underwhelmed Daniel about the obesity training course. When Elaine suggests that Howard takes a more pastoral care approach to management, Howard vows to go with Daniel. At the course, Howard tries his best to chivvy Daniel's mood, but it's to no effect - Daniel makes no attempt to mask his contempt of the course.
When course leader Henry tries to get Daniel involved, he explodes and makes an impassioned speech about the whole of society being on a downward trajectory. Howard is shocked, but thinks that his mood is simply dictated by the course and offers to attend in Daniel's place from now on.
Howard is convinced that this gesture is enough to have won Daniel round, and confidently asks if he's been having a hard time recently. However, Daniel shoots him down, and they end the session with an even greater wedge between them than before...
Elsewhere, Jas's double life causes trust issues with a nervous patient.