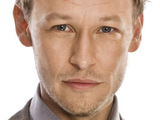 Jimmi is in a good mood and accidentally lets slip to Karen that he and Cherry are trying for a baby. Karen is delighted and promises not to say anything, but later when she sees Cherry holding a baby, she can't help but give the game away. Cherry is cross with Jimmi for blabbing, but he turns the tables on her and starts to question why she is so reluctant for anyone to know - and why does she seem so miserable when she should be excited and happy?
Later, Cherry apologises to Jimmi and reassures him that she does want a baby - she told Mandy who was delighted and doesn't want to tell her mum because she'll take over. Jimmi is relieved, while Cherry can't quite believe how good a liar she's become.
Meanwhile, Emma is pleased to hear that Jas has moved in with Kevin, but has to be set straight on the fact they're not an item. Jas thanks her for her support and explains that her ex owes her money. Emma encourages Jas to get in touch to recoup it.
Elsewhere, painful memories surface for Heston when he investigates the alleged abuse of an elderly man.