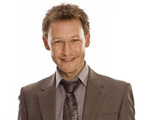 Reeling from learning that Cherry isn't pregnant, Jimmi struggles on police surgeon shift. When he encounters a teenage girl named Naomi who is pregnant and wants an abortion, he loses it.
Jimmi soon absents himself from the case and Emma is brought in. She encounters Naomi's concerned 'mum' Carol, who Jimmi remembers as being an ex-patient.
Soon afterwards, Emma discovers that Carol isn't Naomi's real mother at all, but has a group of runaway girls who she has taken in, in return for them sleeping with her clients. Emma is shocked when she reveals the truth.